The House of Tears Carvers and their totem pole stopped in Mackinaw City in late July.  It was their last stop en route to their final destination, the U.S. capital.  Their journey, called the Red Road to D.C., included stops at sacred sites across the country, to build the will to protect these treasures, now endangered from dams, mining, and pipelines.  For 20 years, the carvers have been at this work of raising awareness and bringing communities together.  This was their most ambitious project to date.
The carvers honored us with a visit to Enbridge's Line 5 because of the twin crude oil pipelines that transit the Straits of Mackinac, threatening the largest freshwater system on the planet, treaty rights, climate stability, and putting a thriving local economy based on water, beauty, and recreation at risk.
The two stops prior to Mackinaw City also involved crude oil pipelines:  Standing Rock with its historic resistance to the Dakota Access Pipeline became a place of empowerment, leadership, and unity for indigenous peoples – and a pilgrimage site for allies who recognized the moral significance of the struggle and the youth who first spoke out.  In northern Minnesota where Enbridge's Line 3 is under construction, the fierce commitment to protect water, climate, and community has been led by indigenous women.  Banners reading: "Defend the sacred" and "Water.  Climate.  Community" go to the heart of what's at stake.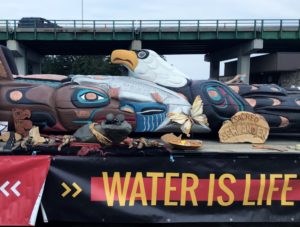 "We are the Lhaq'temish, The Lummi People. We are the original inhabitants of Washington's northernmost coast and southern British Columbia. For thousands of years, we worked, struggled, and celebrated life on the shores and waters of Puget Sound."
Uncle Doug, brother of Jewell James, the master carver, told the story of their travels to a place in Miami where orcas were held in captivity and trained to perform. The orca had spoken to him asking for help, maybe in a dream, so they went to Florida. He said that during the show the orca stopped performing and refused to continue.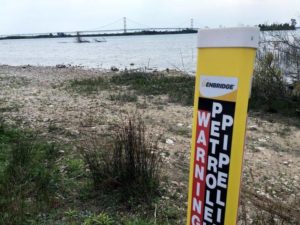 The orca and the Lummi have known one another for a long time, "our relations who live under the sea." The Lummi people work to protect these relatives and also the chinook, not only as a source of food, but as family.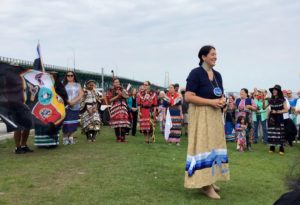 Whitney Gravelle, Chairperson of Bay Mills Indian Community, was the host of the event.  Bay Mills has led some of the legal action to shut down Line 5.  She shared this publicly after returning home from Washington, D.C. for the presentation ceremony:
"Today, I had the honor to meet Madame Secretary Deb Haaland at the Department of Interior. Being in her presence, the presence of her team, and the presence of all my relatives as we shared our visions with one another for the future of Indian Country was a blessing beyond measure. 
"A future where our people can celebrate, honor, and continue being who we are as indigenous Tribal Nations without fear, trauma, or prejudice. A future where our children, the next seven generations, have a relationship with the land and water. A future where our sovereignty is respected and honored. A future where language, culture, and tradition flourish and thrive."
More and more often, we're seeing signs that include both Stop Line 3 and 5.  Water and climate protectors, including Winona LaDuke, came to northern Michigan from Minnesota for the eviction events as Enbridge began to operate Line 5 illegally after the easement that gave them permission to occupy the bottom lands of the Great Lakes was revoked.  A delegation from Michigan traveled to the Treaty People Gathering in Minnesota to return the favor, participating in two non-violent actions.  If completed, the Line 3 tar sands expansion project would be the equivalent of bringing 50 coal plants online as the planet burns.   
Uncle Doug said that the totem pole itself wasn't the point.  Bringing people together, protecting everything that we depend on for life and health is the point.  Relationships of trust across boundaries and differences are being built.  We are reclaiming our power to collaborate and create for the common good as institutions crumble before our eyes.  Restoring a culture of health, centered on reverence and respect for the living world, and seeing ourselves as a part of it packs transformative potential beyond law and regulation.  It is our responsibility and privilege to create a world where life can thrive again, for all our children.
***Rev. Deb Hansen. Deb is a board member with Michigan Interfaith Power & Light.  She worked for many years in corporate America before becoming a refugee of modern culture.  She served as a chaplain at Sinai-Grace Hospital and is currently a spiritual director, water and climate protector, and advocate for healing and repairing our relationships with the larger kin-dom and with one another.  She's endlessly fascinated by the process of cultural transformation that allows human life to renew itself.