Detroit Climate Strike Coalition Action against DTE on Feb 12,
February 12, 2020 @ 3:30 pm

-

6:00 pm
Dear Friends, Allies, Supporters,
The Detroit Climate Strike Coalition is taking action on Wednesday, Feb 12, at 3:30pm to object to DTE's recently submitted 15-year energy plan (IRP), currently under review by our public regulators, the Michigan Public Service Commission (MPSC).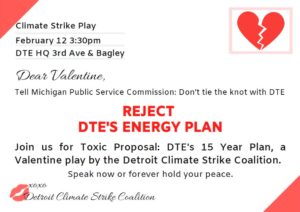 We're asking for your support to get the word out, and JOIN US!  Please share the attached flyers with your friends and networks.
Our action is a Climate Strike Play with a Valentines theme, urging MPSC to "break up" with DTE.  It will be fun, inclusive and participatory.
DTE's plan calls for continuing heavy reliance on fossil fuels for energy production, and sidesteps the urgent need to transition to 100% community owned wind and solar.
Our objective with the action is to persuade MPSC to reject DTE's plan, and rule for a just and timely transition to wind and solar energy by 2030.
DTE Energy Campus, 3rd and Bagley (in downtown Detroit)
This event will be accessible to all, contact Valeriya epshteynv@gmail.com  or Grover Grover@michiganlcv.org  for accommodations.
Thank you for your participation and support!
Detroit Climate Strike Coalition