"Detroit Sustainability Action Agenda" by Joel Howrani Heeres, Director, Office of Sustainability 3/3/20
March 3, 2020 @ 7:00 pm

-

8:30 pm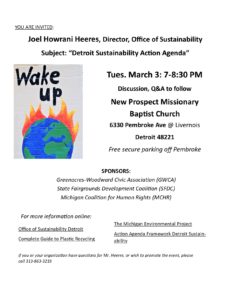 Subject: "Detroit Sustainability Action Agenda"
Tues. March 3: 7-8:30 PM
Discussion, Q&A to follow
New Prospect Missionary Baptist Church
6330 Pembroke Ave @ Livernois Detroit 48221  
Free secure parking off Pembroke
SPONSORS:
Greenacres-Woodward Civic Association (GWCA)
State Fairgrounds Development Coalition (SFDC)
Michigan Coalition for Human Rights (MCHR)
For more information online:
Office of Sustainability Detroit
Complete Guide to Plastic Recycling
The Michigan Environmental Project
Action Agenda Framework Detroit Sustainability
If you or your organization have questions for Mr. Heeres, or wish to promote the event, please call 313-863-3219
_______________________________________
Background
Detroit's Plan for a More Livable City: An Introduction (printed in February GWCA News)   By Frank Hammer, Chair, Ad-Hoc Fairgrounds Development Committee
On March 3rd, Greenacres residents will have the opportunity to hear a presentation by the Director of Detroit's Department of Sustainability – Joel Heeres – on the administration's plan for enhancing Detroit's future.  The Dept. is a newcomer to the city's governing structure, created just two years ago in the wake of Mayors across the U.S. committing to the objectives outlined in the global Paris Climate Agreement, aimed at reducing the human causes behind intensifying climate disruptions (think: hurricanes Maria and Dorian in Puerto Rico and the Bahamas, wildfires in California and Australia).
The plan, called "Detroit Sustainability Action Agenda," focuses on four outcomes organized into ten goals:
1: Increase access to healthy food, green spaces, and recreation opportunities
2: Improve air quality and reduce exposure to pollution
3: Advance equity in access to economic opportunity
AFFORDABLE, QUALITY HOMES
4: Reduce the total cost of housing, including utilities
5: Improve the health and safety of existing and new housing
CLEAN, CONNECTED NEIGHBORHOODS
6: Transform vacant lots into safe, productive, sustainable spaces
7: Reduce waste sent to landfills
8: Make it easier and safer to get around Detroit without a personal vehicle
9: Enhance infrastructure and operations to improve resilience to climate impacts
10: Reduce municipal and citywide greenhouse gas emissions
These are concretized into 43 distinct actions, some of which are:
Renovate existing and create new parks throughout the city
Reduce emissions from City vehicles
Expand green jobs training and workforce development programs
Expand lead poisoning prevention initiatives across the city
Develop green building guidelines for new developments receiving City incentives
Support neighborhood-based efforts to care for vacant lots and structures
Launch a citywide recycling campaign
Improve mobility connections between neighborhoods and job centers
Integrate climate change impacts into hazard mitigation planning
Expand emergency preparedness and communication tools
Develop a greenhouse gas assessment and climate action strategy
Develop an electric vehicle infrastructure strategy
The plan for "Sustainability" is ambitious, as you can see from all the above–and yet some environmentalists believe it's not ambitious enough, considering the challenges that are confronting us according to warnings issued by climate scientists globally.
For more info, google "Detroit-Sustainability-Action-Agenda."