Michigan Public Service Commission Meeting/Shut Down Line5
August 24, 2020 @ 4:00 pm

-

7:00 pm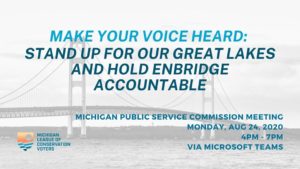 Enbridge is known for a horrible track record and countless safety violations. They cannot be trusted. It is up to us Michiganders to step in and let the commissioners know that any projects that risk irreversible damages to our Great Lakes must be stopped immediately.
The MPSC will be holding a public hearing on the Line 5 tunnel proceedings on Monday, August 24. This meeting will give the public an overview of MPSC's process moving forward and there will be an opportunity for the Commission to receive direct comments from the public.
The MPSC serves us and they need to hear from Michiganders before making any decisions. Every voice matters. We need to tell the commissioners to protect the Great Lakes and reject Enbridge's request.
Please RSVP to sign up to attend the meeting. The team at Michigan LCV will be in touch with more information and how to join virtually.
What: Michigan Public Service Commission Public Hearing
Where: Virtual on Microsoft Teams
Livestream Link: https://bit.ly/2P7RVJG
Dial in: (248) 509-0316, access code: 998 713 012#
When: 4pm – 7pm, Monday, August 24
NOTE: IN ORDER TO MAKE A PUBLIC COMMENT YOU MUST DIAL IN BY PHONE. YOU CAN ALSO WATCH ALONG BY CLICKING THE LIVESTREAM LINK. COMMENTS MAY ALSO BE SUBMITTED THROUGH THE Q&A FUNCTION ON THE LIVESTREAM.