It came out of the blue, this pull to volunteer at the U.S./Mexico border and see for myself. I had no experience with immigration or Latin America, and spoke only limited Spanish. My work has been focused on water, energy, and climate. Why this? Why now? The tug wouldn't go away. So, based on the advice of a young friend, I ended up working in a shelter for refugees in El Paso.
Most of the guests in the smaller home where I served were long-term guests, unlike our other El Paso shelters where most everyone has been released from detention. After getting a fresh set of clothing, a meal, and a cot for a night or two, they were off to their sponsor, pending a hearing. After a month, I felt at home living in community with refugees, asylum seekers, and my fellow volunteers. I liked feeling part of a caring community. There was the doctor who always found time to make a house call, the pro-bono immigration attorneys, those who donated clothing and food, the bilingual teachers and staff at the schools. El Paso is a gentle city. It was safe to walk to the plaza at night to enjoy the lights of Winter Fest. On the other hand, the economy hums thanks to the job opportunities with ICE, Customs and Border Protection, and a military base.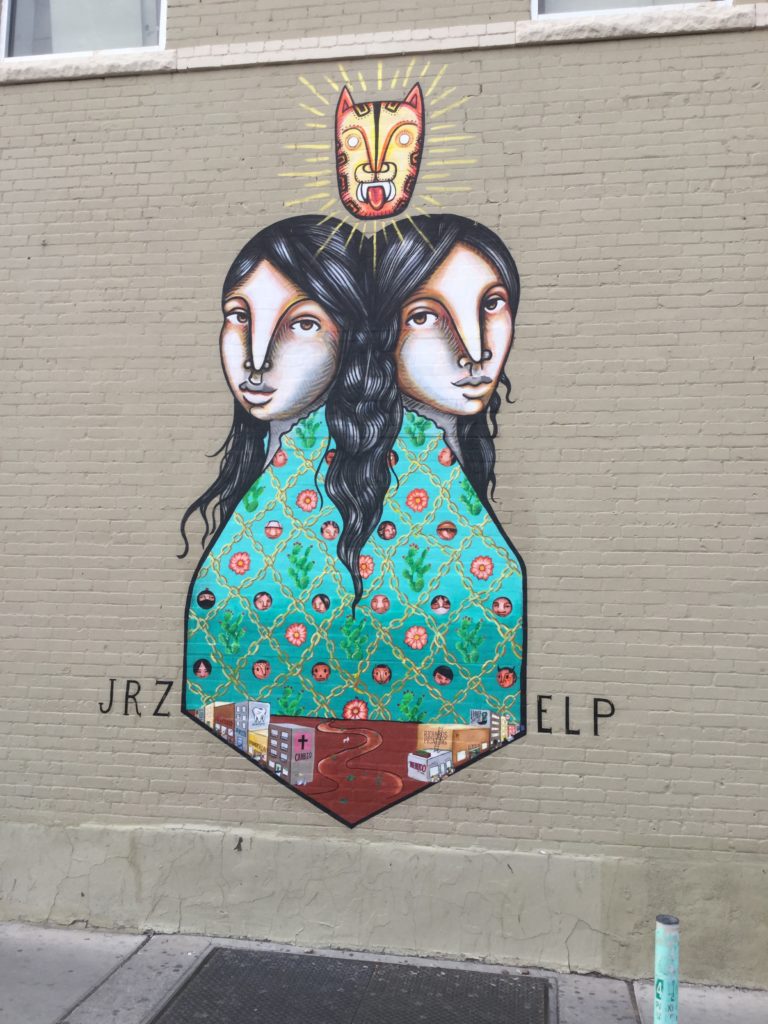 Violence or the threat of it was a consistent theme with our guests. After the cartel that came back a third time to extort money from a man who ran a business. The family packed the car that night and drove to the border. A young mother of two gave birth shortly after arrival. She showed me newspaper articles documenting the murder of her mother on the street in broad daylight. Our guest had been raped in her early teens. Her oldest child was the result of the rape. Her three sisters had been sent to a facility for minors in Arizona where they appeared to be well cared for. Militarized borders help spawn organized crime. Not only can you hire a coyote to get you to the U.S. border, they can take you where you want to go on this side.
I experienced the ritual of the posada before Christmas for the first time. It's relevance to today was almost eerie. The holy family and participants moved from house to house, singing, asking for shelter, and being turned away. When the procession reached our home, we opened the doors for a planned fiesta. During this holiday season, there were pinatas, free movies, and family fun on the weekends at the plaza.
We were one of several locations that hosted Border Awareness Experience groups, typically university or high school students or members of religious congregations. These visitors often spent time in Juárez or at minimum sat in a park overlooking Anapra, Mexico, a place of deep material poverty. It was that contrast between the wealth on one side of the border and the poverty on the other, no whim of fate, but rather the intentional exploitation of human labor and land, that haunted them. I loved giving visitors a tour of our house, introducing them to some of our guests, answering their questions, and giving them a historical perspective on our work which began during the dirty war in El Salvador in the 1980's.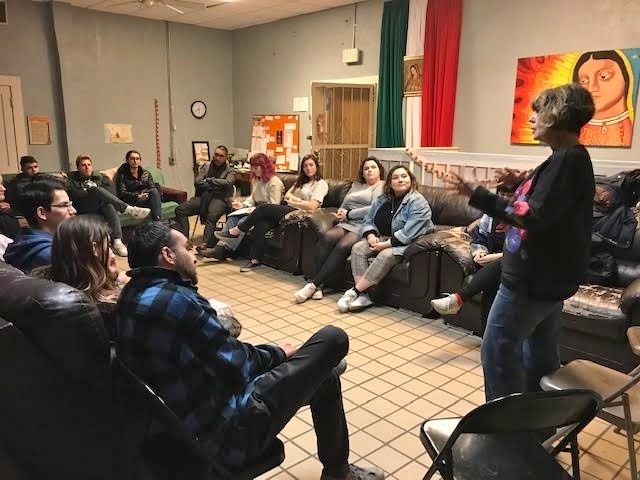 It could be difficult to say good-bye. One of my fellow volunteers and I accompanied two of our guests and their children to the bus station, wheeling their luggage as a last sign of respect and goodwill. They hoped to join a family far away. There were blessings and tears. The handsome 14-year-old had worked through his anger and was doing well in school. The 10-year-old was less shy, but as sweet as always. It had been months since they appeared at our door in the night, wet and shivering, in freezing temperatures. Though we were weary after a long day, we had offered blankets to wrap up in, a hot shower, a set of dry clothing, and a hot meal of leftovers from dinner.
Isabelle Cabanillas, a beloved young artist, activist, and mom, was murdered on the streets of Juárez in the early morning hours during my stay. Women are killed with impunity in Mexico. Red paint was sloshed on the wooden gates of the presidential palace in Mexico City after the cruel murder of Ingrid Escamilla. The guns flow south. The drugs flow north. Dictatorships flourish. Coups topple democracies. The U.S. is almost always implicated.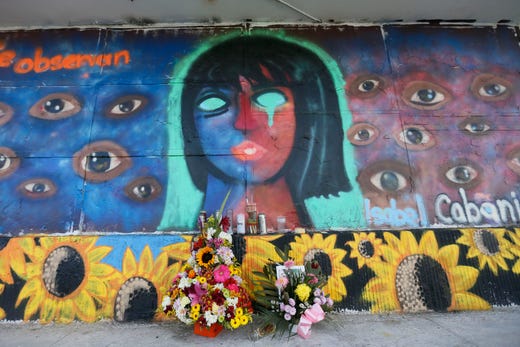 There were occasional breakfasts of huevos rancheros at Martha's. There was the morning when the children saw snow for the first time. There was the day when a helicopter circled low again and again over the garden. There was news that the Black Hawk helicopter had been redeployed. The border is a war zone. There was the day when a car, likely driven by a coyote, crashed just a few blocks from our home. One passenger died. The rest of those injured stayed with us after being treated in hospital. There was the day that the first woman came to us after scaling the wall and falling. She was treated and released from hospital with back and leg injuries. There were those who followed. In spring, the desert bloomed again with golden poppies. The number of people going through our houses was dropping sharply based on new policies.
What we were doing was work, but didn't seem like anything heroic. It was why we were there. We lived together as a family. Together we put meals on the table, made sure the house was clean, and the children were in school. The energy of community carried us. The work is too much for most of us to do on our own. The boredom of our longer-term guests was probably the biggest challenge. They faced many uncertainties, but the culture and relationships had given them a resilience I found inspiring.
I treated our guests as I would want to be treated in similar circumstances, with respect and care, making sure everyone's basic needs were met, including belonging. We also managed to have fun. One day I got home to find our 86-year-old volunteer leading the children in exercises in the living room. Later that day, our 10-month-old held court from her high chair, in the middle of the living room watching Coco with the other kids.
The U.S. has done much harm in the world at home and abroad. We have supported authoritarian rulers and coups, destroyed local economies. We have trained military and police to subvert the voices of their people. Latin America is being recolonized, this time by corporations that have decimated local economies. I left El Paso filled with gratitude for having helped me reclaim some of my humanity. I don't know what will be asked of us in the years ahead. I now understand how my work with water and climate breakdown relates to immigration and border control. I long to live in a healthier culture, one that values and respects life, relationships, and beauty. We wouldn't need so many laws, policies, and regulations if we were simply willing to be good and decent to one another and respected the water, air, and land that we depend on every day for life. We have helped create situations where people have to leave their homes, their communities, their language, but are punished for doing so.
Postscript. At the time I am writing this, Covid 19 is devastating El Paso. There are 10 mobile morgues, and prisoners have been enlisted to help move the bodies. The downtown convention center has been turned into a field hospital.
***Rev. Deb Hansen. Deb is a board member with Michigan Interfaith Power & Light. She worked for many years in corporate America before becoming a refugee of modern culture. She served as a chaplain at Sinai-Grace Hospital and is currently a spiritual director, water and climate protector, and advocate for healing and repairing our relationships with the larger kin-dom and with one another. She's endlessly fascinated by the process of cultural transformation that allows human life to renew itself.