Notes From the Movement
March for Black Women: Breathing together
by Monica Isaac
On September 23rd, a grand jury indicted a former Louisville police officer for wanton endangerment during a raid on Breonna Taylor's home in March of this year. No officers involved were charged with her murder. The news sparked outrage and widespread national protests in the midst of mass demonstrations globally. Breonna Taylor's death has also prompted questions around the nature of obtaining true justice: Is justice enough through carceral punishment? How is justice possible through the same system built to oppress the people?
Many Detroit organizations heeded the nation's call for justice and to create a healing space for all black women. Local Black and woman-led organization, March 4 Black Women Detroit (M4BW Detroit), gathered at Campau Park on Saturday, September 26th for a community-wide rally. A large handmade sign stating "Black Women Matter" hung from the baseball diamond acknowledging and affirming the purpose of the gathering. Local vendors filled the perimeter of the park selling goods and handmade dyed shirts while attendees of different backgrounds shared in mourning and celebrating Breonna Taylor and the countless women who have brutally lost their lives at the hands of police. Jazmine M. Brooks founded M4BW as a response to the national March for Black Women in 2018. She echoed many leaders calling for healing in the community, "We need to be validated in our sadness and anger. We are encouraged in these spaces to not just heal but be celebrated."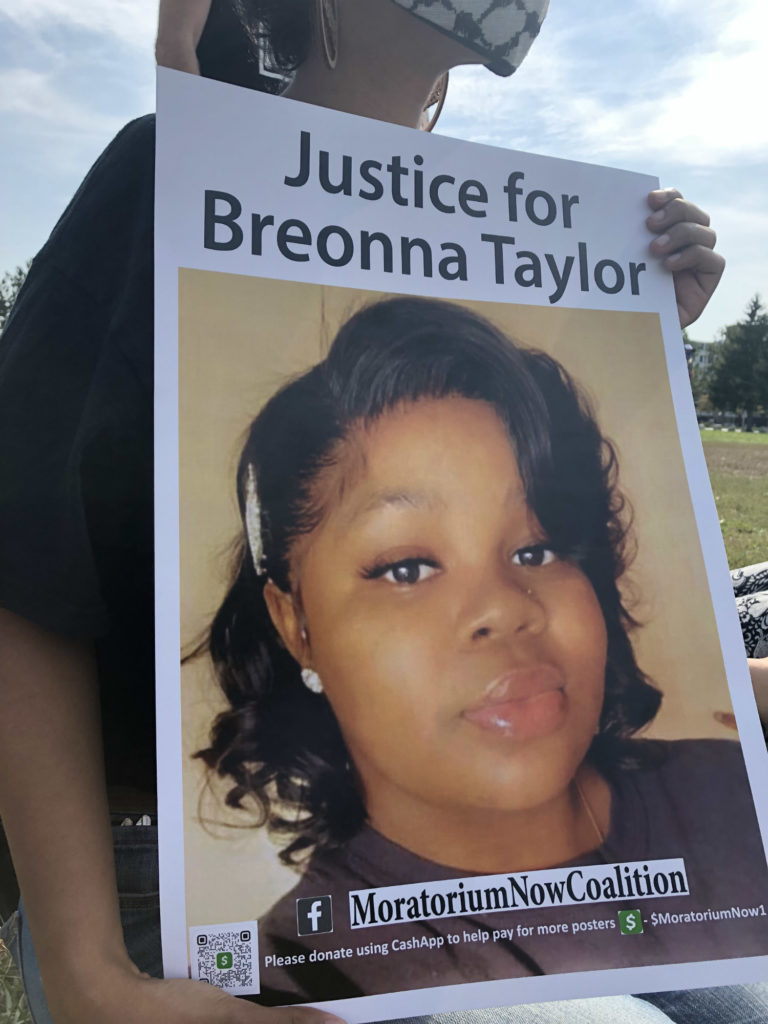 It was encouraging to see predominantly young Black women energized and leading conversations centered on their needs, and focusing on understanding the power of the voice to challenge colorism, patriarchy, and abolish the police.
While the afternoon event was a safe space to express anger and sadness, several organizers called for transforming expression into action. Sentiments were shared around the critical nature of local voting and how city government can operate for the people. M4BW Detroit defined action and justice through their manifesto, clearly outlining their position as an abolitionist organization— abolition being defined as the removal of all systems oppressive to the people, including police. New organizations like Black Lives Matter In All Capacities (BLMIAC) reiterated the call for police abolition and emphasized their purpose in uplifting all Black people regardless of gender, ability and class.
In the spirit of collective family, Waawiiyaatanong (the original name of the land known as Detroit) Resurgence, a non-hierarchal, woman-led Indigenous organization, shared their traditional healing through dress and dance, and further expressed the struggles of oppressed people living on stolen land and fighting for Black Liberation this way— "…this is a time to be focusing on our own healing. We need to be able to use the oxygen mask before we share it. We need to breathe together."