Posted on August 31, 2020
Photo by Adam J Dewey
Occupation is a Crime, From Detroit to Palestine
by Monica Isaac
(editor's note: Daily marches and rallies led by Detroit Will Breathe have been sustained for over 90 days as part of a steadfast resistance to racist police brutality in Detroit and across the nation. Consequently, we have witnessed an emerging network of supporting grassroots organizations, growing in diversity and intensity. In addition, we have witnessed the tensions and contradictions that inevitably arise as a result of organizing in the midst of violent responses by police forces.
Monica Isaac has been present at the Detroit Will Breathe actions and has begun to chronicle events which have energized the movement to protect Black, Brown and Indigenous lives. Riverwise thanks the author for allowing us, through an ongoing series of submissions, to examine the progress from the ground. We are gracious to present a viewpoint which originates near the axis of current movement activity, and which reflects the transformation taking place within these tireless activists and everyone within shouting distance. –e.t.c.)
Saturday August 8th marked a Day of Resistance organized by the Samidoun Network (a prisoner solidarity network), Palestinian Youth Movement and Detroit Will Breathe. Solidarity organizations around the country came together to resist Israeli annexation of the West Bank and the impacts of American imperialism.
Community members and organizers met at William Ford Elementary School in Dearborn. This moment signified not only a day to resist the ongoing occupation in Palestine but a celebration of Internationalism. Several organizations and comrades from Detroit and surrounding communities spoke on the similarities of the settler-colonial project here and globally. Ongoing chants and signs affirmed: "From Detroit to Palestine, occupation is a crime and Zionism is Racism!"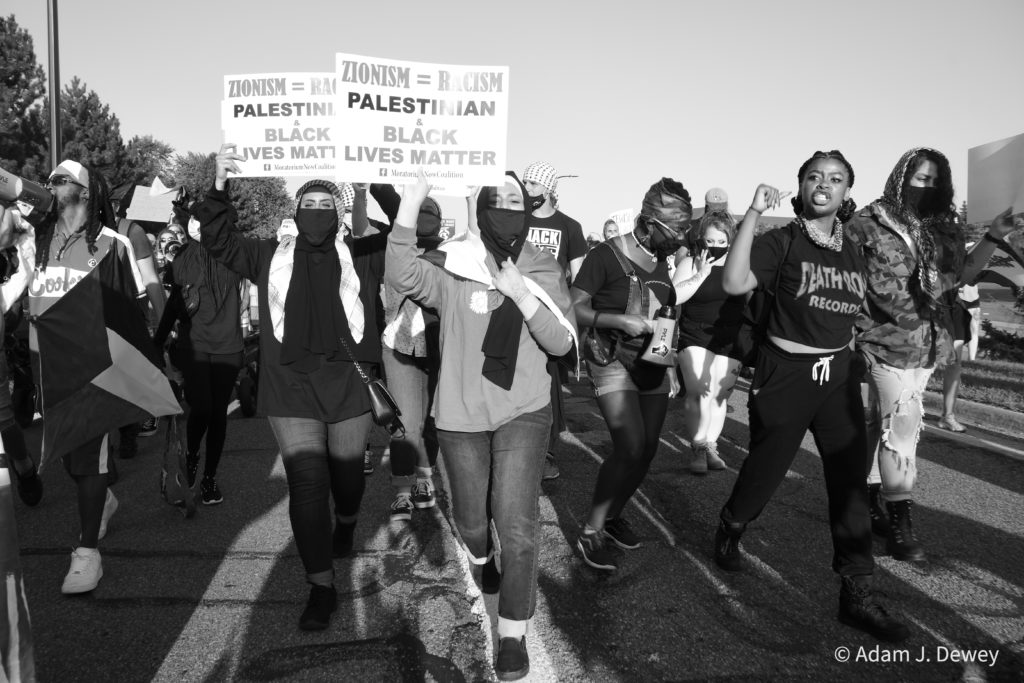 Sahar Faraj, member of the Palestinian Youth Movement, stressed the critical nature of reframing the perspective on what occupation looks like in Palestine and here in Detroit. Occupation is more than a physical police state exerting its dominance and intimidation on the people. It's a deep financial investment to the tune of 3.8 billion dollars to Apartheid Israel. It's a removal of resources, and while this may not historically look like genocide, it's a slow and systemic elimination of basic human needs. A comparison between the two can be seen through water shutoffs in Detroit with, at one point, over 100,000 people stripped of this natural resource, and the Gaza Strip reporting 97 percent of drinking wells too contaminated for human consumption. The comparative list goes on: illegal demolition of homes, removal of access to healthcare facilities, lack of internet, stripping of land, school closures, destruction of neighborhood spaces such as cultural institutions and libraries and constant police surveillance (notably Project Greenlight here).
Expanding on globally tied struggles, Sahar spoke on Black Liberation as the cornerstone of all liberation, "Without Black Liberation, Palestine will not be Free." Black and Palestinian solidarity has been a successful blueprint for what co-liberation looks like since the early 60s with Angela Davis and Malcolm X continuously connecting global oppression and our opportunity for joint power. This sentiment was echoed by several speakers during the evening like organizer/ecologist Antonio Rafael, "Black is sacred, vital and beautiful. You can't protest Israel and not stand up for Black lives."
Acknowledgement of native land was key in this moment with a clear understanding that Anishinaabe land is critical to how we continue to build with ancestral and spiritual knowledge. He also called for the acknowledgement of all Arab struggles including the U.S.-funded humanitarian crisis and proxy war in Yemen (extracted U.S. taxpayer money goes to Saudi fuel and weaponry in the tens of millions of dollars). Iman Saleh of Yemen Liberation Movement spoke intimately on the affects of genocide and American Imperialist media manipulation: "Don't allow the normalization of our pain."
Organizers from Detroit Will Breathe, Jewish Voice For Peace and Anakbayan (Filipino Youth Organization for National Democracy) shared some thoughts and history of collective solidarity of all oppressed people and echoed the words of Chairman Fred Hampton of the Black Panther Party Chicago Chapter, "You can kill the revolutionary but you can't kill the revolution." An important call was noted on the defunding of Israel through boycott, divestment and sanctions (BDS). This can be actively done through the boycott of Israeli establishments (Israeli burger chain Burgerin attempted to open in Dearborn in 2019 and was met with swift backlash); divesting from Hewlitt Packard (HP), one of the top military service companies in the world, which is currently used at illegal military checkpoints in the West Bank and is also contracted with Dearborn schools; and, most timely, cutting ties with all U.S. police training programs in Apartheid Israel. Hundreds of federal, state and local departments (Wayne State University being one) participate in a tax-funded police training programs with Israel Defense Forces (IDF). The same tactics (knees on neck, torture and surveillance programs) used to terrorize Palestinians are used to terrorize Black and Brown communities here. One of those ways is through over-policing in the city of Dearborn.
Dearborn has had to grapple with a sordid and racist history dating back to Mayor Orville Hubbard. Hubbard was a well-known segregationist who vowed to "Keep Dearborn Clean," which was code for keeping Dearborn white. Police and shop owners were also known to be openly hostile and unwelcoming to Black people, upholding the racist values Hubbard had pushed since being elected in 1942. Activist Julia Kassem spoke of the history of Dearborn police as a racist authoritative force dating back to its inception in 1929, "Hubbard encouraged his officers to shoot black people on sight." In late 2015, Kevin Matthews, a mentally disabled and unarmed Black man, was shot 9 times in Detroit by a Dearborn police officer. Shortly after in 2016, Detroit resident Janet Wilson was killed by Dearborn police near Fairlane Mall. These brutal incidents highlight not only a pattern in the Dearborn Police Department but a legacy of racist practices that are birthed out of American policing. When activists and community members call for Abolition, it is a call to make these oppressive systems non-existent. It is a call to understand that reform is not possible, but a better, healthier world is.
Abolition stretches from The Philippines to Yemen to Detroit to Palestine. To end the occupation there, we must end the occupation here.