CALLING ACTIVISTS TO A PEOPLES MOVEMENT ASSEMBLY March 14 9:30am-4pm at the Commons
March 14, 2020 @ 10:00 am

-

4:00 pm
Greetings from Frontline Detroit,
The coalition that worked to bring nearly two-thousand folks to the climate justice rally before the presidential debates last summer are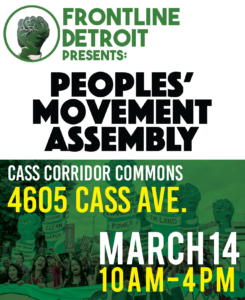 In July, we intentionally worked to include as many of Detroit's struggles for justice as we could. This is the nexus– the legacy and future– of the big movement and fight for climate justice where people of color and/or low income people work to survive and thrive.
With that in mind, we want to extend an invitation for you and your community or organization to join us in the fight for climate justice. We see the Green New Deal as an urgent call to retake our city for living wages, affordable housing and utilities, fight police violence, immigration raids and muslim bans, endless war and right-wing, white supremacist agendas in Detroit playing out through the bankruptcy and — and we can achieve all this and save the planet through reconnecting to Earth, and protect the communities hardest hit by the climate and economic crisis.
This work necessarily includes a merging movements, creating food security, a real legal system, ending energy and water shutoffs and combating the various forms of bigotry and racism that are at the root of discounting human worth for money and power. It's time to set our differences aside and lock arms in our biggest battle yet–our common future.
Please join us for the "Take It Back– People's Movement Assembly" on March 14, 2020 10-4pm Location: Cass Commons, 4605 Cass Ave, Detroit, MI 48201
(Yes! This is intentionally right after the presidential primaries!)
You should come if:
You are sick and tired and want to level up
You live in or work in Detroit
Are anti-hate, pro-community
** if you wanna help us plan this sh@* call kim or michelle***
Frontline Detroit includes people you know: Baba Darryl Jordan, Vincent Martin, Theresa Landrum, Antonio Cosme, Kim Hunter, Gregg Newsome, Kathryn Savoie, Michelle Martinez, Curtis Renee, Jenny Teed Art Reyes III, Pau, Eliza, Bridget AND MORE… and orgs like Detroit Safety team, DPP, Sunrise, We the People-MI, SEIU, MEJC, EMEAC… the list goes on and on.