Participants in action at the Build a Chair = Reframe a House workshop, Detroit Reuse Collective.
Editor's Note: Note: A previous version of the essay was published in Log 54
Centering Sustainable Practice in Development
  The Detroit Land Bank Authority (DLBA) is the largest landowner in Detroit. It is also one of 120 land banks across the country, created by local governments as public or nonprofit entities that hold abandoned, foreclosed, and tax-delinquent properties for future development.  Originally established in 2008, it gained significant agency in 2014 and now controls 80,000 properties. The DLBA has returned around 30,000 properties to private ownership. It is important to note that Detroit residents have long tended to the land, long before the DLBA. According to Tepfirah Rushdan, co-director at Keep Growing Detroit, land ownership has only recently become an increasing necessity for the many residents who planted and invested in gardens on open land. While the DLBA has codified this in part through programs giving first access to land sales for neighboring residents and community partners, they've also faced criticism for their perceived favoritism of developers. 
As architects who are committed to the idea of sustainability and reuse in architectural design, part of our mission is to reimagine how those in our profession can contribute to building equity into the repurposing of existing structures and bring those ideas to life. With this in mind, we spoke to seven groups across Detroit representing the voices of resident landowners, urban farmers, community organizers, and city officials: a cacophony which reveals the various visions shaping Detroit's future. Rather than upholding the forces of downtown development, we record here stories of growth around stewardship as a form of ownership. In addition, we discuss our own work to create accessible architecture workshops we call "Build A Chair, Re-Frame A Home"  that were born both out of these conversations and our fundamental belief that our collective practices surrounding the built environment must reflect our principles of mutual aid and community connection is key to growing thriving and equitable social spaces. 
A City That Feeds Itself, Frees Itself
The growing pace of change in Detroit is compounded by the magnitude of its land. Spread over 139 square miles, the city is large enough to fit six Manhattans. Detroit's politicians and businessmen like to tout their influence on this land through equally superlative figures. Since the current mayor, Mike Duggan, was elected in 2014, his administration has taken pride in tearing down over 20,000 vacant buildings. And in 2013, businessman John Hantz purchased more than 1,500 lots from the City of Detroit at 350 dollars per lot with the intention of maintaining the land as tree farms, but later sold around 150 of the lots for over 2.8 million dollars.  However, a different form of organizing land use around cultivation has a rich past and flourishing future in Detroit: the urban garden and farm. 
Across Detroit,  people have cultivated images of the city that sharply contrast with downtown development. For example, in Islandview on the east side, the nonprofit Peace Tree Parks is putting finishing touches on a 42-foot geodesic dome harboring all-season planting beds and a passive aquaponics pond. Four miles to the west in Chadsey Condon, eight friends have planted a field of saplings on nine lots, establishing a nature park informally referred to as "the Land." And all across the city,  people are stripping apart wood laths and peeling up floorboards to renovate structures they purchased from the DLBA into future homes and businesses. These efforts are advanced through shared networks and resources that residents have created in their interactions with the DLBA and with each other.  
"To grow a garden is to grow a community!" proclaimed Dr. Shea Howell, a local Detroit activist who is on the board of the Boggs Center, leaving us with an indelible image of nature as critical to place-based, people-centered alternatives to development. Expanding far beyond the individual hobbyist pursuit, the urban garden in Detroit is a community enterprise that provides sustenance to residents and financial support to those who make long-term commitments to the land. In a separate conversation, Marc Peeples of Liberated Farms provided a grounded example of this sentiment: his agricultural initiatives double as educational programs for youth, imparting lessons of responsibility and patience that are as essential to growing crops as to life in general. 
Detroit residents are a part of the vanguard for starting urban gardens and farms, maintaining nearly 1,500 of them in the city today. This critical mass has led to the creation of networks like the Detroit Black Farmer Land Fund, which has supported 30 Black farmers in obtaining land ownership. On the other hand, the potential for these gardens and farms to provide sustenance at a larger scale has galvanized organizations seeking to expand food security, including Keep Growing Detroit, whose mission is to help cultivate Detroit into a food sovereign city. When we asked about the greatest successes by community activist organizations in Detroit, Dr. Howell brought up the creation of the Detroit Food Policy Council, a format for both representatives from the city's food system and city officials to sit at the same table to influence food security policy. Before our conversation came to an end she  shared one more memorable quip, "A city that feeds itself, frees itself." This time, instead of an aphorism describing Detroit's past and present, it is a tangible vision to strive for in the near future. 
Companion Planting and Other Kinships
In November 2020 eight friends pooled together finances to purchase a tract of nine lots from the DLBA in the Chadsey Condon neighborhood. They call this space, "the Land."  The group closely observed the layers of natural growth on the land that have merged with the remnants of past construction. They located areas where they could bring in new plantings and supporting structures that would contribute to the site's ecosystems. These efforts coalesced into a mission: to steward the lots as a nature park, even as the city around it changes. 
On a walk through "the Land", Nick George, one of its owners and stewards, cautioned us to avoid stepping on the small pink flags scattered around the area, each guarding one of the hundred tree saplings the group had planted a few weeks earlier. Nick pointed out each and every species of plant with great enthusiasm, and described the critical role they play on "the Land." Clusters of Michigan wildflowers provide sustenance for bees that in turn pollinate a neighbor's urban farm. A large indentation near the center of the site doubles as a bog, where water-loving plants are already thriving. A small yet mighty grove of old-growth deciduous trees at the north end shades conifer saplings, providing respite from the scorching summer sun. These efforts of interspecies care by design find parallel with the practice of companion planting used by gardeners. 
Speak of Land Differently
An essential tool deployed by land stewards to advance their goals is the use of language. The words we use can empower and connect as much as they can discriminate and divide. In a conversation with DLBA officials, they spoke of efforts to guide residents through land acquisition, but also acknowledged that a large hurdle is created by unfamiliarity with the bureaucratic language of property development. Global Detroit addresses this issue for new immigrants and has guided  people through the process of purchasing homes in Southwest Detroit. Liberated Farms addresses a similar hurdle for the next generation of Detroiters, offering educational programs for youth on building proficiency in the language of property, and even giving the original members of its apprenticeship program a 25% stake in the farm's crops and land. 
Peace Tree Parks' geodesic dome in Islandview, Detroit, 2021. Photo: De Peter Yi.
Land as a Social Unit/Architecture as Activator
When land acquisition models shift from the individual to the collective, the use of land can follow suit to take on a social role. In using the term social, we are referring to the conception of land as a tool through which we establish our relationships with each other. "We have been giving away the food that we produce since 2015," said Eric and Brianna Andrews with little fanfare as we toured the site of their latest urban farm. Their nonprofit Peace Tree Parks is one of many organizations we spoke to that have oriented privately-owned land purchased from the DLBA Community Partnership program for using land for collective benefits. Organizations can acquire properties at a discount. Peace Tree Parks has purchased and converted eleven lots. 
"People stop by all the time just out of curiosity. The structure has drawn new attention to our cause," said Eric as we stepped into the warmth of Peace Tree Parks' prismatic, polycarbonate-coated geodesic dome. On a frigid morning in early November, the dome was abuzz with activity. Neighbors toured the structure as a group of volunteers prepared the floor of the dome for planter boxes that will soon sprout peppers, cucumbers, and tomatoes. The structure, prefabricated as a kit-of-parts by a Colorado-based company called Growing Spaces, was reassembled on the site by Eric, Brianna, and a team of volunteers in the span of just a few short months. The dome will fulfill their vision for an all-season greenhouse that extends their growing capacity five times the produce yield per harvest and act as a distribution center in the heart of the city. Even before all of these benefits have materialized, the presence of the dome has created another advantage for Peace Tree Parks: it has aligned the organization's mission with a memorable image. Indeed, the circular nature of the dome embodies the strength & resilience of entities created without rigid borders.
Let There Be Uncut Lawns!
Peace Tree Parks' dome demonstrates that imaging and communicating models of land use is vital to the success of alternative and unconventional approaches. However, the city's idealized image of land stewardship can sometimes contradict the realities of what people are putting into practice. 
Conventional ideas held by city bureaucrats often counter goals pursued by land stewards. Residents have looked beyond uncut lawns, seeing possibilities of unfettered natural, agricultural, and community growth. If the stages and cycles of such growth can take precedence over normalized assumptions of productivity, then there is an opportunity to reimagine what healthy urban environments could look like.
Making Time
As we have become accustomed to living within societies fixated on economic growth, speeding up often means progress, and slowing down is equated with decline. Though profit-driven land development in Detroit is speeding up in the hands of real estate investors and speculators,  creating ways to slow down enables a greater number of residents to take part in shaping the city's future. 
Alterations of time already underpin land transactions conducted in the city. The DLBA gives city residents exclusive access to purchase a side lot adjacent to their own within 180 days of it becoming available before extending the offer to the wider community. In East Davison Village, community partners worked with the DLBA to establish a period of specialized purchasing for neighborhood residents. However, with the DLBA's policies in constant transition, alterations of time in favor of residents and land stewards are fleeting.  For many people, like Marc Peeples, going through the DLBA to obtain land is a time-consuming endeavor. With the goal of equitable access in mind, the city should actively reshape time and continue offering moments of respite from the relentless pace of the market for residents to achieve their goals. In this case, slowing down becomes a necessary antidote to the hangovers of speeding up.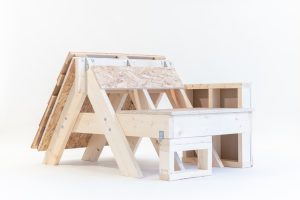 The chair constructed by participants for the Build a Chair = Reframe a House workshop, Detroit Reuse Collective.
The Future is Reuse
Based on the stories we've heard, a question swirls in our minds: what images of the city's future allow its residents to find common ground? One shared thread we've identified is that Detroit's future is built on a culture of stewardship, long sustained by people with a deep understanding of the city's existing material and social conditions. These residents see the city's future growth as part of a longer term process of renewal. For example, Nick George explained that a function of "the Land" is to remediate the soil contaminated from the demolished homes left on site to renew it for future use. Yet, the city's definition of progress in recent history continues to be measured by the amount of material demolished. The eradication of tens of thousands of structures in Detroit under the objective of "blight removal" has done little to provide housing solutions for the residents that have been displaced. And throughout the history of Detroit and cities across the US, demolition has been synonymous with segregation and division. 
"The best thing you can do is build things up," countered Dr.  Howell as she discussed the current city administration's penchant for knocking things down. In the eyes of many, the structures that remain standing on vacated land across the city are full of potential energy. At the time of writing this essay, there are more structures undergoing renovation than the total number that have ever in the DLBA's 14-year history. Self-organized social media groups of residents sharing resources for renovating properties have swelled to thousands of members. Furthermore, the DLBA's sales are outpacing their acquisitions, a harbinger for more seismic changes to come as the number of properties they hold dwindles. 
As homes are being purchased at record pace and as Detroiters and newcomers alike seek to remain and be a part of the city's future, reducing barriers to land acquisition and home renovation, to foment community stewardship is essential. It is within this milieu where our idea for the Build-A-Chair, Re-Frame a Home workshops came about. Much like providing education around the language of home and property ownership can be demystifying, so to can providing basic skills and knowledge about the actual processes involved in renovating and rebuilding a property. 
Our process is simple. Through an intensive (and fun!) hands-on day-long training, participants are guided through building a "chair" which represents all of the essential components of a standard home. As you build the base for the chair, you learn the basics for laying a foundation for a home. As you build the back of the chair you learn how to create rafters, weatherize, and lay shingles for a roof. As you build the sides of the chair, you learn how to build walls in a home, and so on. In addition, we walk participants through each tool they are using, and provide tips and tricks for making the work less cumbersome. Finally, we provide resources and links to DLBA representatives, other organizations providing support to homeowners in the city, and information that assists with next steps. By the end of the day, people who may have never even used a hammer before leave feeling energized, empowered, and more in control of what can often feel like a daunting process. 
We believe that in this way, we not only provide community members with the opportunity to gain important skills, but also spark organic connections and relationships among the participants that will last beyond our workshops (we often witness friendships blossom during the day!) These workshops we believe are firmly in line with the idea of slowing down, centering the process and the people before profit, and reintroducing connection and care into our ideologies about the spaces and places we inhabit. 
In anticipation of the future, could the DLBA transition from an organization that holds and sells property to a public entity that supports stewardship and reuse? Existing initiatives can be reoriented to realize this goal. Rather than direct funding toward demolition, the City of Detroit could hire residents to disassemble, salvage, and repurpose the materials of vacant properties, and renovate abandoned homes into new housing stock. In turn, this would train residents in skills of rebuilding that contribute to long-term cycles of maintenance and growth, cementing a culture of stewardship that has long been critical to Detroit's character as a movement city, and that will continue to be important in realizing equitable transformation in the long run. 
De Peter Yi and Laura Marie Peterson codirect 1+1+ Architects. Ayesha Jeddy and Owen Sims are studying architecture and urban technology, respectively, at the University of Michigan.