My series (Trans)capes is about looking at the transgender experience through a different lens.  By using trees in place of the trans body, I illustrate both the growth and change that exists in the trans experience.  Each image in this series was photographed on Belle Isle in Detroit, MI, and is created using a historical photographic process with a modern twist. The layering technique involved in this process represents the layers of change required in the trans experience to become your authentic self.  Ultimately, (Trans)capes is an example of a self-portrait through the technique used to create the photograph rather than the image subject itself. 
Check out Evan's website here! https://www.elockhartphotography.com/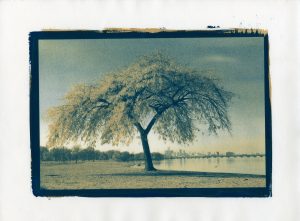 Evan Lockhart is a professional artist, photographer, and educator whose photographic illustrations have been exhibited nationally. As a 17-year veteran photographer, Lockhart obtained his MFA in photography from Columbus College of Art and Design. His work focuses on the exploration of gender and race dichotomies through mixed-media photography, traditional processes, and audio-journalism.  A former high school arts educator, Lockhart was awarded the National Teacher's Medal from the Scholastic Art Awards in 2020. He currently holds the position of Outreach Manager in the College for Creative Studies' Office for Institutional Equity and Inclusion where he oversees outreach to tri-county K-12 institutions. A 2022 Applebaum Artist-in-Residence, Lockhart's current work explores the gendering of landscapes through the transgender gaze.