What is Gerrymandering?
Many of us are familiar with the term "gerrymandering." We often hear it used in conjunction with the notion that our elected officials are doing something not quite right that results in biased election results and policy decisions. We may even be aware of the twisted and ugly district maps that result from the process of gerrymandering, the kind of maps that often break up neighborhoods in seemingly random and arbitrary ways…ways that generally have little do with how those of us living in those community define the borders of the places in which we live. 
Here in Michigan, we decided to throw out this old system that wasn't working for the people. Activists gathered signatures for a ballot proposal, and in 2018, we passed Proposal 2. When we voted to pass Prop 2, we created a new system in Michigan where everyday citizens now have more rights than ever when it comes to how district maps are drawn.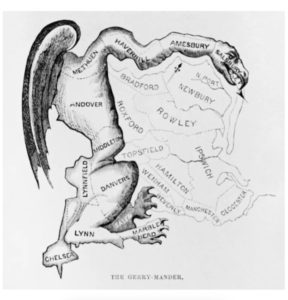 This map shows the "original gerrymander" so named after the American politician Eldrige Gerry who was
Governor of Massachusetts in the early 1800s and responsible for passing the law that would come to make such convoluted districts an American reality.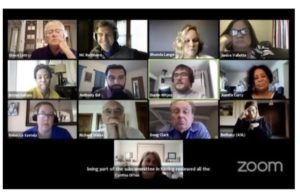 [A screenshot of the MICRC at their virtual meetings]
Centering Racial and Economic Equity in the process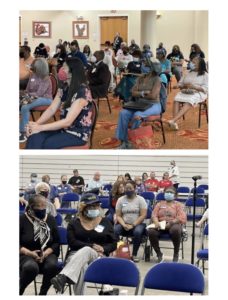 [Citizens across the state come out to ensure that their community is being represented in the districting process]
Under the Constitution, the MICRC must use these criteria, which are in order of priority: 
Districts shall be of equal population 

Districts shall be geographically contiguous

Districts shall reflect the state's diverse population and communities of interest

. 

Districts shall not provide a disproportionate advantage to any political party

Districts shall not favor or disfavor an incumbent elected official or a candidate.

Districts shall reflect consideration of county, city, and township boundaries.

Districts shall be reasonably compact. 
 The prioritization of "communities of interest" is new and provides an important opportunity for traditionally marginalized groups to advocate to be prioritized in the new process. Thanks to the grassroots organizing of community groups, the voices of the historically excluded are making themselves heard and tangibly impacting the new redistricting process.
For example, when the Commission was deciding their public hearing schedule, there was an attempt to base it on geography rather than population, biasing the process in favor of rural areas. The communities who were the most impacted by the packing and cracking tactics of gerrymandering were going to be underrepresented yet again. But community organizations across the state organized to submit public comments to call attention to the need for more hearings in the most densely populated and diverse areas of the state. Their efforts resulted in getting public hearings in Detroit, Kalamazoo and Pontiac added to the schedule, ensuring that the process for collecting public comments and stories from Communities of Interest was more equitable.
What can you do?
While the MICRC has been working for many months, in important ways they're just getting started. They are just now beginning to draw their first set of maps, and there will be another round of hearings this fall for the public to comment on these first map drafts. And, until then, they are always accepting online submissions from the public to ensure that anyone who wants to, can have a say. 
Call Out: [Michigan's new redistricting process was created by Michigan citizens, and is accountable to YOU! The new Michigan Independent Citizens Redistricting Commission needs your input–hold your camera over the QR code to get involved!]
Don't let your community go without being heard! Your voice is essential to ensuring that everyone has a fair chance at representation and getting the resources needed to see our communities thrive. Try your hand at drawing a map of your community and submit your public comment through the MICRC Public Comment & Map Submission Portal at https://www.michigan-mapping.org/.
If you or your organization is interested in engaging in the redistricting process here in Michigan, you can email democracy@michiganvoices.org for more information, training, and resources.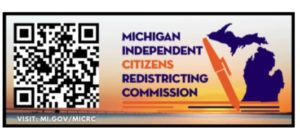 [Simply scan the QR code above using your smartphone camera to go to the link and–learn more about how you can help make your communities needs heard in the redistricting process]. 
By: Michigan Voices, info@michiganvoices.org
& Megan Douglass, Digital Director, For Our Future MI, mdouglass@forourfuturefund.org 
Michigan Voices seeks to help build civic engagement capacity in progressive nonprofit groups that are led by and engage BIPOC people.
For Our Future MI works to mobilize people and community-based organizations to drive real change and advance our shared values.