An insightful, sensitive conversation about the crisis
In the last two years, children in this country have lived through two profoundly destabilizing social upheavals. Through the media and in their own lives, they have witnessed an apocalyptic pandemic –some of them losing or being distanced from family members and friends – as well as an onslaught of barbaric police violence.  Their routines of school, home life, friendships and play have been fundamentally disrupted by loss and violence, and we, as their providers, have yet to devise effective strategies for restoring cultural balance to their lives. How have they been processing these traumas?  What sense have they been able to make of these times?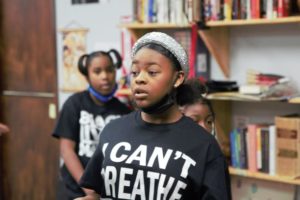 We attempt to mitigate their disorientation with patience and tenderness, praying they will not suffer chronic emotional distress.  Essential to supporting them through this period is a willingness to listen deeply to what's on their minds.    To that end, the Detroit Independent Freedom Schools Movement (DIFS) and the Coalition for Police Transparency and Accountability (CPTA) partnered to produce a video in which youngsters from Detroit area schools were asked to express their thoughts concerning police violence, the extent to which they have been personally affected by it, and their ideas for ending it.  We think you'll be interested in what they had to say.  
The video production team included Margaret Roberson, director of the children's dance and drum ensemble, Al Nur; three activists from Detroit Will Breathe (DWB), the leading organization in the Detroit struggle to end police violence, as well as members of DIFS and CPTA, as mentioned above.  In addition to providing insight into the ways school children are processing police violence, the video is a resource to educate and mobilize community groups towards making necessary changes in policing and public safety. There is brilliant use of dance, literature, and music to enhance the video message.   In one performance, Al Nur members dance to the anti-lynching song, "Strange Fruit," written and performed by the great jazz artist, Billie Holiday.  The children dance with placards showing the faces of contemporary victims of police murder, drawing the historic connection between state-sanctioned police killings and the U.S. practice of lynching.  In another selection, we hear the voice of famous African American novelist and culture critic, James Baldwin, commenting on the identity assaults African American children must endure in the United States. 
Watch the whole video here : https://riverwisedetroit.org/detroit-youth-perceptions-of-the-police/ 
We hope you will appreciate the perceptive, sensitive observations of Detroit's young people. Riverwise ed.