Diop was founded in Detroit in 2018, just in time to provide beautiful facemasks to help us get through the pandemic. Diop produces reusable, cotton, washable facemasks, including sizes for children, youth, and people with beards. Shirts and bucket hats were their main business before the pandemic required masks as a clothing staple. 
Diop is at @weardiop on Instagram, where they have lessons on cultural appreciation and information about the many give-away opportunities they offer the community.  Just recently they offered a 20% discount if you emailed them evidence of purchase of Cicely Tyson's book, Just As I Am.  A Diop mask from Detroit was recently featured on "Saturday Night Live!"  I asked Diop to tell us a little more about their vision and work.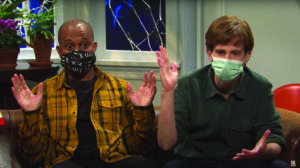 Actor, Chris Redd, on recent episode of "Saturday Night Live" sports a fabric mask from Diop in Detroit.
How was it, starting a business in Detroit? 
The support from the community continues to be invaluable. We came out of the Venture for America program and its Accelerator, which stressed not just the resources that were available to us here, but also the wealth of expertise here locally in starting and growing a new business. What sets Detroit apart is that it is easy to ask for help and apply the guidance you receive, both of which are essential to the earliest stages of the business.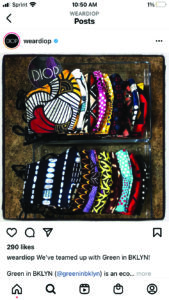 What inspires your donations? 
We like to say that we don't have to do our business, we get to do it. And part of that privilege is the opportunity to support initiatives and organizations that do important work in our communities, day in and day out, rain or shine. Prior to the pandemic, we worked with groups like Detroit Action on their advocacy efforts on issues like housing and jobs. The onset of COVID-19 allowed us to reach more people looking for support in a number of areas, especially food insecurity and hygiene. And though we wish it were under better circumstances, we're fortunate to be able to help out where we can in our own small way.
What's next for DIOP? 
The future of DIOP is more products that allow people to feel like the most true reflection of themselves, no matter what space they enter. One of our earliest customers worked in a predominantly white engineering firm, where everyone wears Hawaiian shirts on Friday. He didn't feel that was true to his experience and he told us how he would wear his DIOP Top and Air Jordan sneakers to work on Fridays to express himself, even though it was just him doing it. We want everyone to feel they can create their own lane or feel good about the one they're in, and we continue to build for those people.