Developing Leadership from Within: The Well-Formed Practice of Negus Vu
By Johnny Ricks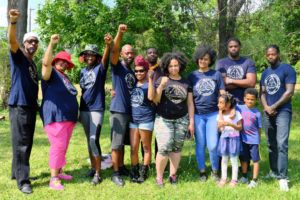 If you want to have a sit down with Negus Vu, chances are you'll have to do so at a Black-owned business. Sure, you can propose a meeting at one of the several new shiny restaurants flourishing in Downtown and Midtown Detroit, but one of the first questions he's likely to ask is "is it a Black-owned business?" Promoting Black empowerment and keeping the community safe are vitally important to Vu, and that is reflected in the actions, programs, and work of The People's Action (TPA).
With a tall slender frame and a picturesque smile, Vu has an uncompromising disposition and charm reminiscent of great leaders of the past such as Malcolm X, Medgar Evers and Jimmy Boggs. Often seen sporting the latest stylish sneakers from Detroit based shoemaker Negash, Vu ardently espouses support for Black business, especially in Detroit, not just rhetorically but actionably. At one of his favorite places to meet, Moor Herbs on 7 Mile Road, you might find Vu hard at work tending to various issues in the community, or meeting with other organizers, while dining on one of the establishment's exquisite and meticulously prepared vegan dishes. Juggling his laptop, cellphone and a gallon-glass container of alkaline water, Vu always has a welcoming smile and pleasantries for anyone he crosses paths with. "Peace queen/brother," Vu's usual greeting. "How're you today?"
As the co-founder and president of TPA, Vu leads a small but highly engaged group of young Detroiters dedicated to promoting justice and affecting positive change in the city. 
One of the most important values to TPA members is developing empowerment through the cultivation of leadership within the organization. "Vu promotes leadership," said TPA member, Lisa Brooks. "He doesn't want all the credit. He doesn't want to take all the props. He promotes everybody in the organization to be leaders—he always says this organization is about leaders."
Formerly Brandon Norris, as the government and folks from his childhood might know him, Vu has built a name for himself as one of Detroit's many grassroots activists and neighborhood heroes. He is the former vice president of New Era Detroit, a grassroots organization that has routinely galvanized young adults in Detroit and across the nation in support of various socioeconomic causes/issues such as neighborhood gun violence and the Flint Water Crisis. From his days at New Era Detroit to now leading TPA, Vu has become known for organizing "shutdown" protests at businesses that violate the trust of predominantly Black patrons and the Detroit community. Recently, Vu organized a three-day shutdown protest at a westside gas station where the clerk fired shots at two men believed to be stealing potato chips. The clerk missed the alleged potato chip thieves but seriously wounded an innocent bystander. "We will not stand for such a blatant disrespect for people's lives in our community," said Vu. "There is no bag of chips, nor any other convenience store item, that justifies the use of deadly force against anybody."
Vu's evolution and growth as a Black youth was not unlike that of most young Black Americans. The product of a lower-middle class family, Vu attended public school in Detroit and its suburbs. As a teen, he faced the danger and temptations of the streets and wasn't always successful at resisting their allure. 
As he grew into manhood, he shed his birth name and adopted the name Vu, adding "Negus" later. "When I was younger, I heard this song, by the rapper AZ, where he mentioned an experience with someone named 'Pearl Vu,'" said Vu. "I thought that was a cool name, so I started calling myself Vu. Later on, I became disillusioned with the constant use of the n-word in the Black community—myself no exception—and I decided to adopt a linguistic play on the word with 'negus,' to symbolize my increased level of consciousness and awareness of the deleterious effects of the n-word on Africans and people of African descent." Negus is defined by Merriam-Webster dictionary as "king—used as a title of the sovereign of Ethiopia," with its first known usage being recorded in 1594. "The same way Black people turned the n-word into a term of endearment, I have repurposed the word negus. Except negus is not a word that was originally invented to disparage and marginalize Black people," said Vu. "Thus, my name symbolizes and reflects my experience as an adolescent and growth as a man." 
A vigilant protector of the community, when Neo-Nazis recently decided to pay an unannounced visit to downtown Detroit, Vu immediately jumped into action with the TPA to let the Neo-Nazis know (in counter-protest) that the people of Detroit do not welcome them. "Vu was very passionate about addressing their presence in our community," said TPA member Tyon Hawkins. "Even though he didn't have a lot of people with him at that moment, he still showed up as if there were. That experience showed me that Vu will stand up for the people, no matter what." 
Supporting a variety of initiatives such as "Adopt-the-Block," a neighborhood clean-up and beautification initiative, tax foreclosure assistance, self-defense classes for women and children, Vu and TPA have no plans to let up anytime soon fighting for socioeconomic justice and empowering people in the neighborhoods of Detroit to affect positive outcomes and change. There are many challenges both extant and on the horizon, particularly with the increasing threat of state sponsored surveillance in Detroit and the rise of White nationalism, but Vu is both determined and poised to continue doing the work. "Sometimes when you're doing this work, you ask yourself, is it all really worth it," said Vu. "But, at the end of the day, each neighborhood, each household, each life you're able to help or otherwise affect positive change for makes it all worth it. It's all about uplifting the people to make the world a better place everyday." 
Johnny Ricks is a lifelong resident of Detroit. A graduate of Henry Ford High School, Johnny is committed to driving constructive narratives and conversations that lead to positive outcomes in Detroit. He has earned degrees at Oakland University and Wayne State University in Communication. Johnny is currently an MBA candidate at The Mike Ilitch School of Business.