We Shall Return, For It Is Our Birthright
By Imani Ma'At AnkhmenRa Amen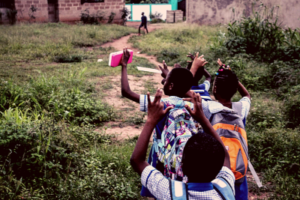 If your ancestors were enslaved, it is your birthright to make that voyage to their native lands. And I'll share with you why… This is my story… 
        Innumerable events were taking place in my life at the time of my 23rd birthday. I was battling some deep emotional 'ish' and I didn't think I had the capacity or ability to conquer any of it. My father's cancers were getting worse and I had just found my way out of an abusive relationship with a family member I'd cherished. On top of that, I was a full-time student working towards a degree. Feeling overwhelmed, I was broke, hungry, but still ambitious and unafraid. I knew I needed to embrace my predicaments head-on with no regrets. Simply, I did what I had to do so that I could find peace for myself and act in ways to bring peace into my life. It was through these convictions that I'd refuse to be a victim or a product of my traumas. 
With all of my struggles stacking up and taking up most of my attention, I tuned into my essence and I began to dance. To be completely honest, it was the dance that saved me a great deal of agony. It was the dances of my ancestors that kept me still, present, focused, and moving forward. I discovered how to tap into my healing magic, and it was through dancing that I was awarded a scholarship allowing me the chance to travel to the motherland for the first time.
In the summer of 2018 I received the blessed opportunity to study abroad in Ghana, to continue my research in West-African dance, art, and music. During my one month stay, I met the most beautiful people—people who were unselfish and loving. This place was familiar and I felt a strong sense of belonging. I had been here before. I traveled to many places including Accra, Cape Coast and Kumasi. In every place my feet landed, I was embraced with open arms, as if I was the long-lost cousin who returned home after being gone for so long.
The most important part of this journey was my voyage to Elmina Castle in Cape Coast. I visited the dungeons where my ancestors were captured and enslaved before being brought to America. They called this place the "Door of No Return". As I walked through every section of the castle, I felt the spirits of those who were captured and tortured there. My heart was heavy, but it was important for my spirit to connect with my ancestors to let them know that I had returned and that there are many more of us who are doing the work to return as well. We shall overcome and keep Knowing Thyself through the wisdom and potency of our ancestry alone.
With no money in my pocket, but desire in my heart, it was the Most High who allowed all of this to transpire and this is MY HONEST TRUTH! I was able to get to Ghana because of the goals I set and the gifts I utilized to manifest what was needed to go forth. This is the magic I've used to continue my artistry here in Detroit while I obtain my MFA in dance at the University of Michigan. With all that I was facing prior to my journey abroad, this expedition was an affirmation to tap into my magic and embrace the unknown wholeheartedly.
Imani Ma'at AnkhmenRa Amen is a visionary, artist, dancer, choreographer, photographer, and writer from Norfolk, Virginia. Through her interest in these interdisciplinary subjects, she produces many works with the intentions of developing safe spaces, unifying the community, and spreading awareness of how to curate higher consciousness through personal development. As a versatile creator and artist, her goals are to bring forth spiritual healing and to encourage others.
Imani's  images from Ghana grace not only this personal testimony but also the cover of this Summer/Fall 2019 edition of Riverwise. We welcome Imani back to Detroit and look forward to more of her boundless creativity on display on the pages of Riverwise. — ed.