In the interest of full disclosure and to facilitate a more objective reading of the following article, it should be noted that Keisa Davis is a Heidelberg Arts and Leadership Academy co-founder and serves as Director of Strategic Partnerships & Community Initiatives.
—ed. note
During my first time visiting The Heidelberg Project, the famed outdoor art environment nestled in Detroit's east side, I had the pleasure of meeting the founder, Tyree Guyton. Tyree took my friends and I on an impromptu walking tour of the grounds and as we walked we were ushered through a forest of clocks with differing times. Tyree would routinely ask "What time is it?" and slowly, like a Salvador Dali oasis, time was suspended. Another stop along the tour included several modest 10-foot murals of the year 1967 sprawled across storage bins, a signifier of the Detroit rebellions and time of collective trauma. We also paused at an installation of vertically stacked rusted car hoods, then an assemblage sculpture of discarded objects—shoes, matted stuffed animals, and old school electronics like television sets with the antennas still attached.
A memorable introduction to community members occurred near an installation where Superman was perched on one side of the Dotty Wotty house. Stickman, a mentor of Tyree's and community elder, greeted us with "All Power to The People!" and we all followed up with a spirited dialogue about struggle, liberation and self-determination in Detroit and beyond. On the tour, interactive in its nature and placement, we learned that Tyree grew up observing Stickman organizing in the neighborhood while, at home, Tyree witnessed his grandmother feeding Southern cuisine to locals in need from her stovetop. As we drove away from the site we were silent, digesting an experience that was substantially more than a typical outdoor art environment and tour.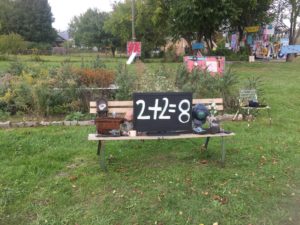 Now known as the Heidelberg Cultural Village, Guyton's original mission has evolved into its most recent phase, envisioned as art-driven neighborhood redevelopment that empowers locals to rebuild and engage in the neighborhood. The educational arm of the Heidelberg Cultural Village is the Heidelberg Arts Leadership Academy (HALA), launched in January 2018 as a free in-school and after-school program that uses the arts as a platform for leadership and youth advocacy. HALA is designed to empower Detroit students in grades 4 through 12 with the tools they need to be active change agents in their community. Heidelberg fundamentals are integrated into HALA's curriculum to teach that the Heidelberg art environment is a real-time model that utilizes imagination to create solutions, new narratives and to rise from difficult situations by critically analyzing their environment. The latter being a skill learned from art interpretation principles.
Through project-based learning and partnerships, HALA students collaborate with and are mentored by artists, organizers, entrepreneurs and tech innovators. A growing course offering includes: Art through Hip Hop, where HALA students use Hip Hop album covers to explore art as a tool for social change and artistic expression and culminates with students creating an album cover with original artwork, song titles and poetry that reflects their life narrative. In Writes of Passage, students use writing as a self-exploration tool and create a zine composed of poems, drawings, photography and personal reflections about a social justice issue. In Art Speaks: Mural Project, students learn about the power of public art through a curated tour of Detroit based murals, and then go on to design and paint an in-school mural to reimagine and positively address social issues they identify in their neighborhoods. In Entrepreneur Empowerment, HALA students learn about business and entrepreneurial basics for a class-wide screen printing enterprise that culminates with selling their merchandise at Eastern Market.
HALA is currently partnered with seven schools on the eastside, including public, charter and alternative schools that serve foster and incarcerated youth. Starting Fall 2019, HALA will also be hosting classes from Heidelberg's new headquarters located off McDougall and Gratiot in the same McDougall-Hunt neighborhood that fosters the Heidelberg's two-block art environment. With this expansion of programming adjacent to the Heidelberg art environment, HALA students will be reintroduced to the Heidelberg Project as a community space they can visit off-campus, connect with mentors, and build social capital, art skills and agency.
HALA pedagogy is also grounded in the belief that education is experiential, and the world is the classroom. With this, HALA launched "Detroit to the Diaspora," a cultural immersion study abroad initiative that will host students to destinations throughout the African Diaspora. The inaugural project is preparing to take 10 Southeastern high school students to Ghana, West Africa for a 12-day experience. Upon their return, HALA students will bring their knowledge and experiences back to their school community and host a showcase symposium for their peers. The Heidelberg Project's long-term goal for HALA includes a K-12 school facility with adult education and wrap around services housed in the Heidelberg Cultural Village.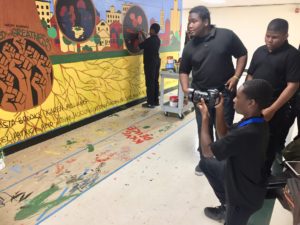 The presence of HALA in schools and community can be understood as an embedded street team that helps to address any disconnect and builds community offsite. In fact, when HALA staff called a parent of a Ghana-bound study-abroad student to inform her about the selection, she insisted it was a prank call. The association between an all-expense-paid life-changing opportunity and The Heidelberg Project could not be real. Most definitely, The Heidelberg Project is more than it appears, an organization with a bold mission to change lives and community through art—Detroit style.
This piece is lovingly dedicated to our local community heroes: Mrs. Betty Guyton, the first lady of Heidelberg, Stickman and Mama Lila Cabbil who were committed in their own way to healing, neighborhood transformation and timeless regeneration.
For more information about The Heidelberg Project, please visit the art environment at 3600 Heidelberg Street or visit www.heidelberg.org.
In addition to her role as HALA co-founder and Director of Strategic Partnerships & Community Initiatives, Keisa Davis is a project producer, educator and artist committed to community-driven development projects that sustain healthy vibrant neighborhoods. Keisa has worked with community-based organizations for 15 years and is a recent transplant from Los Angeles who hella loves Detroit.