Feb 12.  I arrive at Annunciation House in El Paso, Texas, a place of hospitality and grace, offering sanctuary and practical support for people seeking refuge from violence, poverty, climate destabilization, and more.  It is an oasis in the storms of life.  Places like this are also prayers of possibility.  They offer a lived experience of mutual respect, relationship, and solidarity.  We see daily that people from many places can live and work together in peace where everyone's basic needs are met in a supportive community extending beyond these three houses.  
Feb 16.  It's the birthday of a  young guest who was hit by a car.  He's shy, but seemed pleased with a cake and card.  Our guest cannot read, so a volunteer reads him the message and each of our names. Later, he video chats with his family back home and shows them his card.  
Feb 19.    There is a welcome donation of winter coats for people traveling north. Medical appointments and transport to be arranged. 
Our house is accessible.  Half of our adult guests were badly hurt when I arrived. All but one had fallen from the border wall and have injuries to feet, ankles, and legs. Sometimes there are broken ribs and back injuries.  Mercifully, a nurse practitioner who serves on the board helps me prepare medication schedules. He'd seen over 100 people before stopping here. There was weariness in his eyes.
This morning, a new guest is looking for his paperwork that I'd misplaced. I found it, but what if I hadn't?  Our house coordinator is laid-back and forgiving.  "As long as the place doesn't burn down, we're good."  
Feb 20.  We received eight guests from many places, a big change from last time I was here.  Then, almost all our guests were from Latin America. Now people come from all over the world.  Current volunteers  speak English, Spanish, and French.  We use "Google Translate" for other languages.  Basic information is collected.  Sponsors make travel arrangements.  Guests who've been released by authorities have immigration papers and a court date.  Most stay just a few days.  
At dinner, I formally welcome the new guests.  The injured are served first.  After dinner, everyone pitches in… floors are mopped, trash taken out, leftovers labeled and dated.  It's lights-out at ten.  
Feb 21.  The energy of the house would be very different without the young people. The play room is next to my room. I love hearing their voices and laughter.
Feb 22.  On Mondays, the common area turns into a barber shop .  A community volunteer brings clippers.  A longer term guest who's been a barber works wonders.
Feb 25.  Remember the young father and his birthday cake?  I learn he'd crossed the border alone somewhere. There was a chase, and he ran across the interstate into on-coming traffic.  His leg was amputated below the knee.  He'll be with us until he has his prosthesis.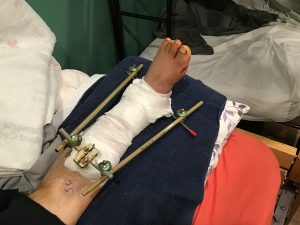 Feb 26. I finally got to see C, an elder I've come to love.  She's worked here for many years. She came to collect me at the train station two years ago, waiting while authorities held the train on the tracks.  Seven people were taken..  
Feb 27.  I told the 12-year-old she can't leave until she finishes the puzzle. Her brother says the last piece went in just before bedtime.  I'm both happy and sad to see this family leave. You can get attached.
Mar 1.  Laundry.  There's a lot of it.  People come and go. We wheel the load four blocks to the washing machines and clothes lines, enjoying time away from the phones.  
Mar 3.  Like everywhere else, Covid has affected life here.  University students and congregations used to visit regularly for a "border awareness experience."  After a hiatus, these groups are starting again. 
Mar 6.  One of the volunteers organizes a game of Lotería (Mexican Bingo). That brings people out who often stay in their rooms after dinner.
Mar 24.  There are few able-bodied people to do chores. Quite a few people left the last few days.  Mopping the common space won't happen today.  
A consulate calls to start the process to get passports for several guests.  A Homeland Security bus pulls up with new people. Two of us administer Covid tests in the parking lot.  The spring breezes toss registration papers all over. Then the guys arrive to replace a broken window.  Our new guests are hungry.  Lunch is over, but there are plenty of leftovers.  Whew.
Mar 26.  Empanadas today!  The new cook won't be here long, but our chief cook gets a break.  There are new arrivals from Mali, Turkey, and Latin America. 
Mar 27.  "I am looking for my sister (or cousin or grandson). I haven't heard from her since Monday (or Wednesday or Friday)."  We send people to a website called "ICE locator" to verify  someone is being held by authorities. Updates take a few days. Keep checking.
Mar 28.  He mostly kept to himself.  Before he and his wife leave, he mentions needing a cornea transplant. One eye definitely looks sore.  He rolls up his sleeve.  Wide ropes of scars cover his arm from an acid attack.  Cartel violence. Another family with young children understands extortion. They had a gun brandished in their faces.
The questions we ask our guests relate to their situation, plans, and injuries to support them. We respect the tenderness around painful memories.  We don't push or pry. Still, many people want to share their stories.  
Mar 31.  Spending time downstairs in the clothes closet is draining.  Just one person rummaging around can make a mess.  There are no elves here to put things back in order.  Everyone gets a change of clothing.  In detention, everything is taken.  Those who stay longer choose a small wardrobe.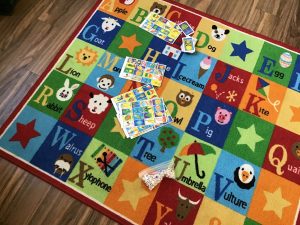 Apr 2.  We received five more injured guests in three days.  Most need surgery.
Apr 3.  B. is young, tall, and gentle.  His smile lights up the room. He was here for three weeks and gave me permission to share his story.  He is from Congo and a candidate for asylum.
We communicated in French which remains the country's official language, a remnant of its colonized past. I interpreted for him and the attorney who got five people from Africa  out of detention. He'd been in "jail" for three months.
has no family here, but he does have friends.  His father had been killed in the fighting. Emotion welled up in his eyes.  He believes his mother and younger sisters are alive, but doesn't know where they are. He fled Congo to Brazil where he worked in a hotel.  In the quiet hours, he likes to pick up the guitar that's kept in the common room and sing softly to himself.  
The humanity and commitment of his attorney, N., touched me.  "Where do you want to go?"  A New England state where he knows people. B. is excited about moving to a state-run shelter.  Friends had raised $200 for his bus fare.  "I used to live in that city," the attorney remarks. "I have friends who might help."  N. suggests waiting a week, so he can make arrangements to get a plane ticket. Agreed.  "Oh, by the way, we got E. out yesterday. He's free." (E. was the last of the group in detention.)  Our guest's face fills with delight. "Hey, I'll call him.  You can talk to him yourself." E. picks up, and a joyful conversation follows, a magical moment in this community of care.
outlines the steps to apply for asylum and other practical assistance. I translate all this onto paper. You can't work for six months after your asylum application is filed.  This is a hardship.  N. takes photos of expired medications B. had been given in detention; he drives him to his ICE check-in; gets the venue for his court date changed. B. is delinquent in sending a daily photo to authorities.  The phone he'd been given instead of an ankle bracelet stopped working. N. makes sure these details are noted in his immigration file. 
Before B. left, N. stops by to say good-bye.  B. holds back tears as he expresses his gratitude. He will need to find legal representation. It's not easy.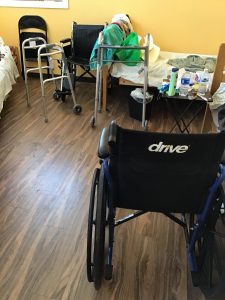 Apr 6.  I refer media inquiries on Title 42 status to our director. The local newspaper comes to interview some of the injured guests. 
Meanwhile, airport volunteers and some guests are harassed at the airport. These volunteers help guests print boarding passes and find their gate…many are boarding a plane for the first time.
April 11.  Two people stop at the house during lunch. The man from Cuba is looking for his wife who was released from detention
April 12.  I tested positive for Covid.    After isolation, I will head home.
The tug to go to the borderlands wouldn't go away.  I wanted to see for myself. I wanted to treat people with the same respect I would want for myself.  I went back a second time because I missed the community and the spirit of the work. 
When it comes to questions around immigration, I have no answers. The U.S. government, military, and large corporations have done tremendous harm in Latin America and beyond, so people leave their homes behind. I can now connect the dots between a destabilizing climate, migration, and militarized borders.  The numbers of people on the move will be staggering, not only those from far-away, but also people from coastal cities like Miami.  Sea levels will continue to rise as floods, wildfires, hurricanes grow more intense and frequent.  Wealthy countries spend  twice as much, on average, arming their borders as on climate mitigation and adaptation.
El Paso is a gentle, welcoming place. Even so, policing borders fuels the local economy. ICE, Customs and Border Protection, Fort Bliss, the border wall, checkpoints, surveillance technology, helicopters, dogs, horses, weaponry, detention centers, buses, deportation flights, courts, and medical care is big business.  
I drive up Scenic Drive one last time as the sun sets. The lights of Ciudad Juárez and El Paso twinkle. It looks like one big city, cradled by the mountains with a river, cemented in and lined with flood lights, flowing through it.  Natural boundaries are real.  Political borders are fictions, drawn and redrawn by powerful men. In the nation state, we are citizens, not sisters and brothers in one human family.