Right now, we are waiting. Waiting to see how our bodily autonomy will be infringed upon AGAIN. It harkens back to the unspoken rule about black bodies in this country. That they are only as worthy as they are useful to someone else. 
It's been a slow walk back to the days before abortion was legal. A walk that for those of us who have been paying attention has been painful. Countless dog whistles during judicial confirmation hearings, promises made on campaign stops, and several lower court decisions have gotten us to this point. A point where our rights hang in peril.  I understand the Supreme Court decision this way: "We won't protect you, we won't fight for you, good luck with the lawmakers in your state." The decision seems all too eager to please an ultra-conservative, right-wing base and its donors who believe it is their duty and right to force people into living right-wing values.
SisterSong, an organization dedicated to reproductive justice for women of color, defines Reproductive Justice as the human right to maintain personal bodily autonomy, have children, not have children, and parent the children we have in safe and sustainable communities. A three-legged stool of freedom and liberation. Principles that lead to thriving communities, generational wealth, security and happiness. Yes, I said it; happiness should actually matter. 
However, the fact that our rights to make parenting and reproductive decisions continue to come up for debate, again and again, shows that our country has its priorities all wrong. How are lawmakers and judicial appointees still hellbent on limiting people's ability to make choices about how and when to parent, yet refuse to pass any legislation to give parents and families the resources needed to survive and thrive? 
Families are struggling to overcome a system that was never built for them. Thus, the conversation about access to reproductive freedom not only seems out of place it is also out of line. in this country right now, Black women are 3 times more likely to die of childbirth-related conditions than white women. In 2020 16% of black families lived in poverty. In 2021, there were 1,055 fatal police shootings, and the rate of fatal police shootings among Black Americans was much higher than that for any other ethnicity, standing at 39 fatal shootings per million of the population as of June 2022.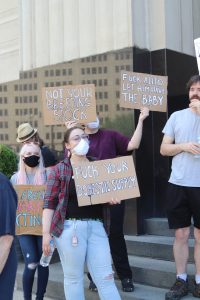 Parenting is amazing, it can give you meaning, and purpose–if you want it  to, if that is what you need. However, it is not and does not need to be this for everyone.  No lawmakers can make a better decision than a person in consultation with her family and doctor. We must as a society protect bodily autonomy. 
The current majority on the Supreme Court and the right-wing politicians and groups who put them there are on the wrong path. Our focus needs to be squarely focused on how we can aid caregivers. How do we restore agency, how do we care for one another, how do we build a society that actually cares about the common good?
You know what's pro choice and pro life? Paid leave, a universal healthcare and childcare system, a thriving public education system, basic livable income, a society that eliminates gun violence whether it be in a classroom or state-sanctioned. 
We need leaders who understand how wobbly the stool is, how many of us depend on it, and that kicking the legs from under it is the exact opposite of what is going to lead to more health and stability for our families and friends in this nation.
Danielle Atkinson has extensive experience as a church-based, electoral, and community organizer. She has worked with organizations such as America Votes, State Voices, Population Connection and ACORN. In 2012, Atkinson founded Mothering Justice, a leadership development and advocacy organization. Atkinson has led organizing efforts to raise the minimum wage in both Florida and Michigan. Mothering Justice also led the fight to get earned paid sick time in Michigan. Her work organizing mothers won her the 2013 Michigan Organizer of the Year Award. Atkinson received bachelor's degrees in political science and sociology from Pfeiffer University and lives in Royal Oak, Michigan, with her husband Frank and their six children.